Quick Facts
Two self-guided days and one guided night watching for bears.
Logement
Fully equipped chalets
Nuits
3
Adventure Type
Self-guided tour
Repas
Breakfast, lunch-package and dinner
Transport
Trekking and bicycle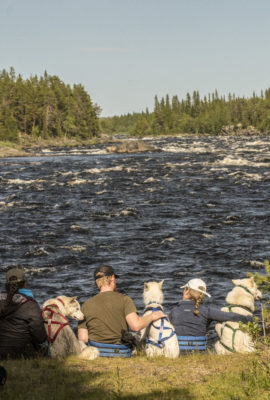 Aventure Aperçu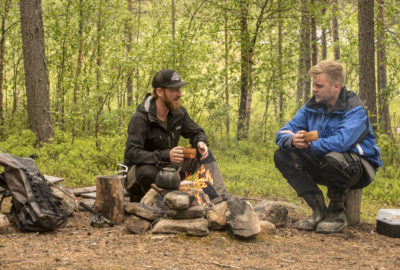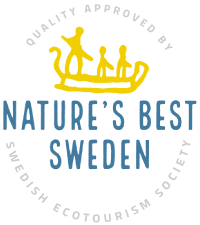 The area around Rajamaa gives great opportunities for walking and biking. Old paths and small roads wind through the forests and along rivers.
In this program You will explore the Taiga forest on You own, with a GPS. One day on foot, and one day on bike. One night will also, together will a guide, be spent looking for bears from our hide!
Itinéraire
Arrival
Arrival by own transport to Rajamaa. Get together and short description of the program. Dinner at the restaurant.
Bicycling and Meeting the bear in the evening!
After a steady breakfast it is time to start the bicycle tour, guided by the GPS. The trail goes westwards on roads and smaller forest paths, along lakesides and over tree clad hills. The sandwiches be eaten by the fire before pedalling back to Rajamaa. Estimated time for the tour 3-4 hours. Dinner at the restaurant. After dinner we will go by mini-bus to Metelivaara and then walk a shorter walk to our wildwatching-hide. The hide has beds for resting and small windows for everyone. Some distance away we have put out food and during the night we hope to observe some of the exciting birds and animals of the Lapland forest. A very special experience. Back to Rajamaa for breakfast.
Trekking in the Lapland forests
After a steady breakfast it is time to start the walking tour. Also today the GPS will show the way. The trail follows the river arm Kinnerpuuska up to the rapids of Äijäkoski, where it is time for lunch by the fire. Along forest paths the GPS will lead You back to Rajamaa. Estimated time for the tour 3-4 hours. Dinner at the restaurant.
Itinéraire
Points saillants des forfaits d'aventure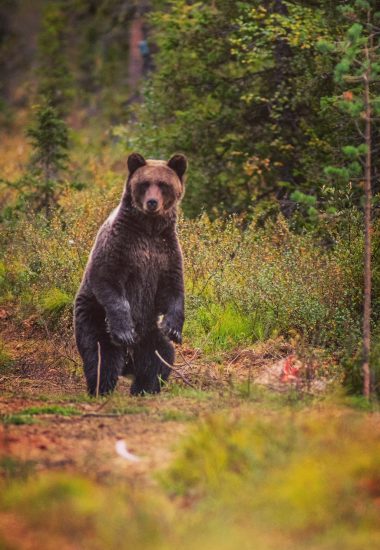 Look for the shy Lapland Brown-Bear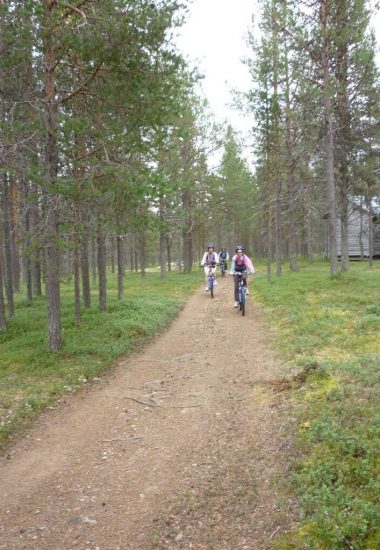 Bicycle along forest paths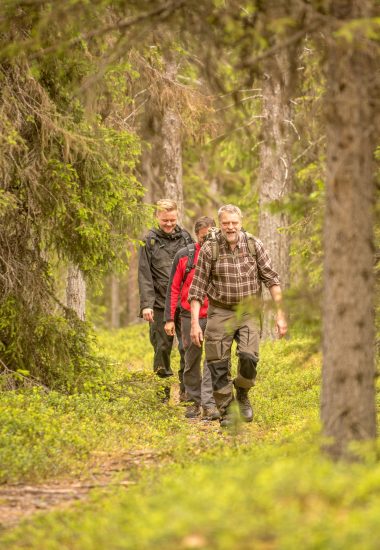 Explore the vast Taiga Forest of Lapland
Hébergement et repas
Rajamaa se situe sur l'Île de Muonionalusta, dans le courant de la puissante rivière Muonio, qui coule entre la Suède et la Finlande. Le bâtiment principal de Rajamaa se compose de la réception, la salle à manger, la cuisine et le sauna. Tout près, nous retrouvons les chalets, le tout entouré par la vaste forêt boréale de la Laponie. Sur L'île de Muonionalusta, se retrouve un petit village de sept habitants, entièrement entouré de nature intacte et sauvage. Ici vous sentirez le calme de la Laponie. Vous y passerez des nuits de sommeil profondes et mangerez des repas faits maison et avec amour.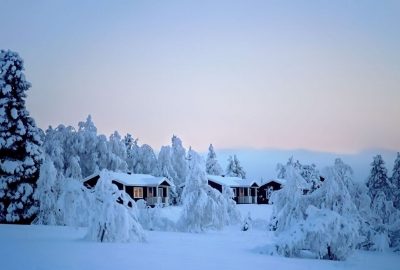 View Gallery
Chalets
Les chalets de Rajamaa ont l'esthétique typique en bois naturel de la Suède, avec lʹextérieur peint en rouge avec garnitures blanches. Les chalets, complètement rénovés en 2018, sont entièrement équipés et très confortables. Les petits chalets ont une cuisine, salle de bain et deux lits simples, qui peuvent être transformé en un lit double. Les grands chalets ont une cuisine, salle de bain, et deux chambres à coucher avec deux lits simples. Ces grands chalets ont deux lits simples supplémentaires dans le salon, donc la possibilité de six lits au total. Dans chaque chalet, vous allez trouver à votre disposition, des lits propres avec draps, couettes et oreillers, une salle de bain moderne avec douche, une petite mini-cuisine avec frigidaire et cuisinière, ainsi qu'un sèche-linge pour les bottes et vêtements mouillés. Depuis les fenêtres, vous pouvez contempler la magnifique rivière Muonio qui sépare la Suède de la Finlande.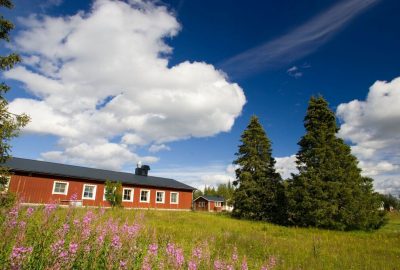 View Gallery
La salle à manger
Tous les repas sont pris dans la salle à manger à lʹexception de ceux mangés au bord dʹun feu lors dʹ activités de plein air. La nature sauvage vous augmentera sûrement l'appétit! Nous préparons tous les repas de zéro et même le pain est fait maison. Nous utilisons des aliments qui proviennent de la région, c'est à dire de la viande sauvage tel que l'élan, du poisson péché dans les lacs et rivières voisins et dans la mer Arctique, et de la viande des fermes locales comme le porc et le bœuf. Les baies arctiques sauvages (myrtilles, airelles et baies de marrais) sont cueillies ici dans nos forets et marécages. Pendant les saisons d'été et dʹautomne, plusieurs de nos légumes sont cultivés ici dans notre propre jardin ou-bien achetés aux marchés locaux. Bon Appétit!
Dates & Prix
Dates for 2020 not set yet. Please send an request!
Avant de partir
The guests should bring proper clothing for outdoor, walking boots, rain clothes and small ruck-sack.
No vaccinations needed, but please bring Your European Health Insurance Card.
Inclus dans le prix
Accommodation in hotel-chalets. Breakfast, lunch-package and dinner according to program. Bicycle 1 day. GPS. A guided night in the bear-hide.
Non inclus
Drinks not included.