Tietoja lyhyesti
Two self-guided days and one guided night watching for bears.
Majoitus
Fully equipped chalets
Yöt
3
Seikkailutyyppi
Self-guided tour
Täysihoito
Breakfast, lunch-package and dinner
Kuljetus
Trekking and bicycle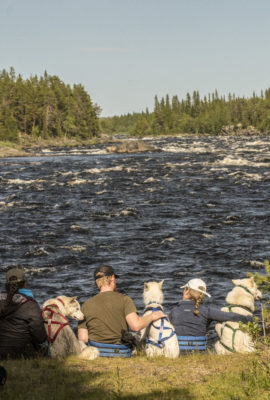 Seikkailu Yleiskatsaus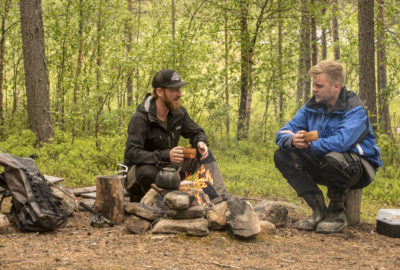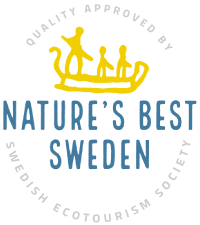 The area around Rajamaa gives great opportunities for walking and biking. Old paths and small roads wind through the forests and along rivers.
In this program You will explore the Taiga forest on You own, with a GPS. One day on foot, and one day on bike. One night will also, together will a guide, be spent looking for bears from our hide!
Päivästä päivään
Arrival
Arrival by own transport to Rajamaa. Get together and short description of the program. Dinner at the restaurant.
Bicycling and Meeting the bear in the evening!
After a steady breakfast it is time to start the bicycle tour, guided by the GPS. The trail goes westwards on roads and smaller forest paths, along lakesides and over tree clad hills. The sandwiches be eaten by the fire before pedalling back to Rajamaa. Estimated time for the tour 3-4 hours. Dinner at the restaurant. After dinner we will go by mini-bus to Metelivaara and then walk a shorter walk to our wildwatching-hide. The hide has beds for resting and small windows for everyone. Some distance away we have put out food and during the night we hope to observe some of the exciting birds and animals of the Lapland forest. A very special experience. Back to Rajamaa for breakfast.
Trekking in the Lapland forests
After a steady breakfast it is time to start the walking tour. Also today the GPS will show the way. The trail follows the river arm Kinnerpuuska up to the rapids of Äijäkoski, where it is time for lunch by the fire. Along forest paths the GPS will lead You back to Rajamaa. Estimated time for the tour 3-4 hours. Dinner at the restaurant.
Näytä kaikki päivät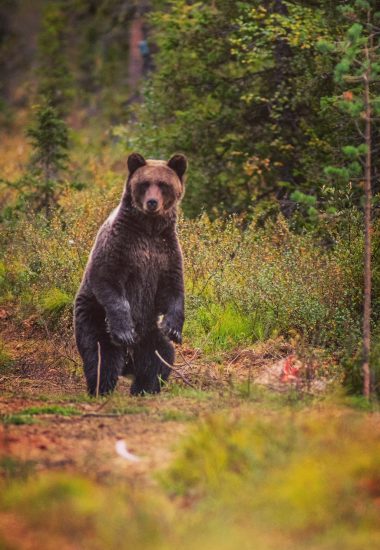 Look for the shy Lapland Brown-Bear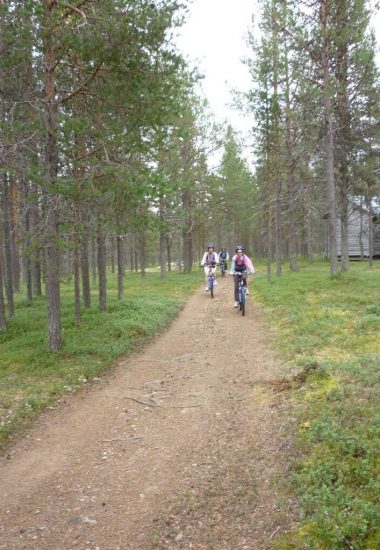 Bicycle along forest paths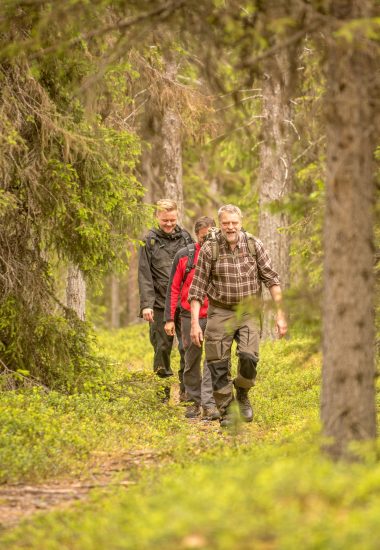 Explore the vast Taiga Forest of Lapland
Majoitus & Ateriat
Mahtavan muonionjoen saarella on näkymät kahteen maahan, tämä on Rajamaa. Rajamaa koostuu päärakennuksesta, jossa on vastaanotto, ruokasali ja sauna. Lähellä ovat hotellimökit ja meitä ympäröi Lapin valtava Taiga-metsä. Pientä 7 asukkaan kylää lukuun ottamatta ympärillämme on vain erämaata. Täällä voit nauttia Lapin luonnon rauhasta, nukkua kuin tukki ja syödä kotiruokaa.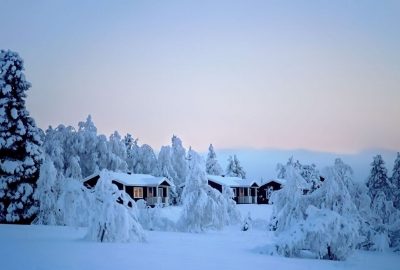 Näytä kuvasto
Lomamökit
Typical Swedish wooden chalets, as always, red with white corners. Lots of wood inside these comfortable, fully equipped hotel-chalets. All of them have been totally renovated during 2018. The smaller ones have 2 beds for twin or double. The bigger ones have two bed-rooms with 2 beds for twin or double and one big living room with two beds. Totally 6 with the extra beds. All chalets have ready-made hotel beds, shower/WC, mini-kitchen and electrical drying closet. And a view over the river and two countries!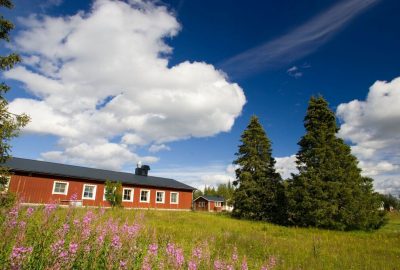 Näytä kuvasto
Ruokasali
All meals, if not eaten outside in the forest by a fire, will be enjoyed in our dining-room. The splendid view over the river will increase the appetite. All the food has been prepared in our kitchen from start, and the bread is also baked there. As much as possible we use Lapland produced, such as moose, pork and beef, and fish from mountain-lakes or the Arctic Sea. Blue-berries, cloud-berries and lingon-berries are picked in the forests around. Depending on season, vegetables are partly grown in our garden and partly from the region. Bon appetit!
Ennen lähtöä
The guests should bring proper clothing for outdoor, walking boots, rain clothes and small ruck-sack.
No vaccinations needed, but please bring Your European Health Insurance Card.
Sisältyy hintaan
Accommodation in hotel-chalets. Breakfast, lunch-package and dinner according to program. Bicycle 1 day. GPS. A guided night in the bear-hide.
Ei sisälly hintaan
Drinks not included.
Päivät & Hinnat
Dates for 2020 not set yet. Please send an request!