Tietoja lyhyesti
Ohjattu kalastus viikko. Ohjelma on ekoturismi sertifioitu.
Majoitus
Fully equipped chalets
Yöt
7
Hinta
Alkaen €1738 (per henkilö, jaettu huone)
Seikkailutyyppi
Guided tour
Täysihoito
Breakfast, lunch-package and dinner
Kuljetus
All necessary transports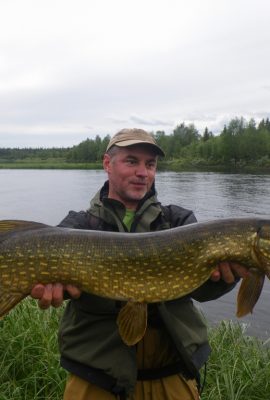 Seikkailu Yleiskatsaus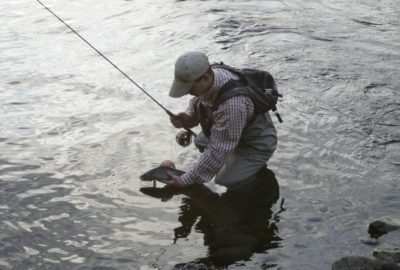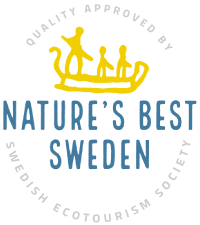 Lappi on Euroopan viimeisin erämaa, joka on tosi kalamiehen paratiisi ja se on vain muutaman tunnin matkan päässä. Lappi tarjoaa monia mahdollisuuksia suurille kalaseikkailuille niin perholla kuin vieheelläkin. Rajamaan aluetta hallitsee mahtava Muonionjoki ja sen pienemmät sivujoet, joita kaikkia on mahdollista kahlata läpi kesän. Tämä on Pohjanharjuksen kotipaikka ja sitä kutsutaan nimellä "Lady of the stream"
Lapin monissa järvissä on paljon haukea ja kuhaa. Jotkin järvistä soveltuvat paremmin rannalta kalastamiseen, kun taas toiset veneestä kalastamiseen. Perhokalastajat monista maista tulevat tänne kokemaan mitä pohjoisen kauniit luonnonvaraiset kalat ovat. Kalastaa voi kellon ympäri, koska aurinko ei laske koskaan. Rajamaa järjestää korkeatasoisia täyden palvelun kalastusretkiä, jotka ovat aina ammattilaisen opastamia. Tällä tavoin takaamme vieraillemme hienoja hetkiä Lapissa, missä pyydä & päästä väkäsettömällä koukulla on luonnollinen asia.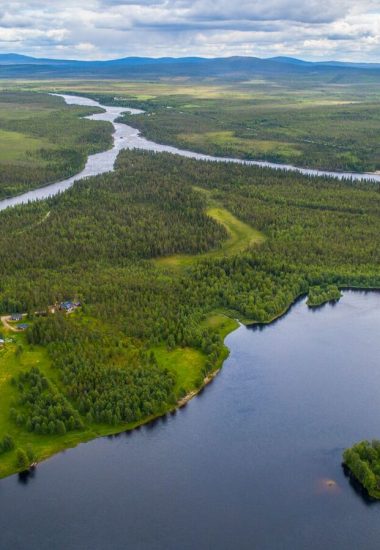 Erämaavesiä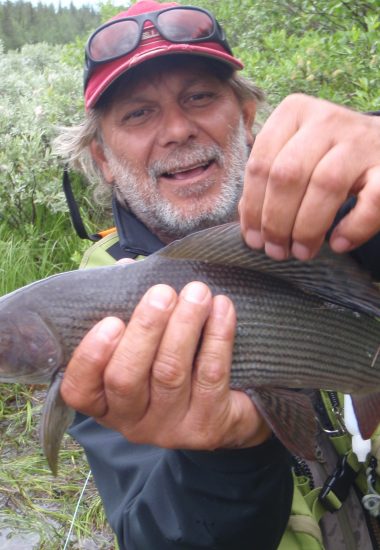 Arktinen harjus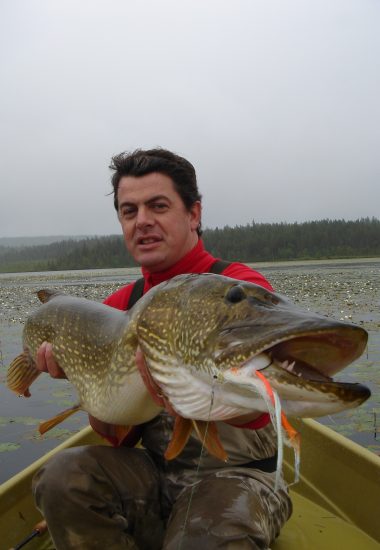 Hauki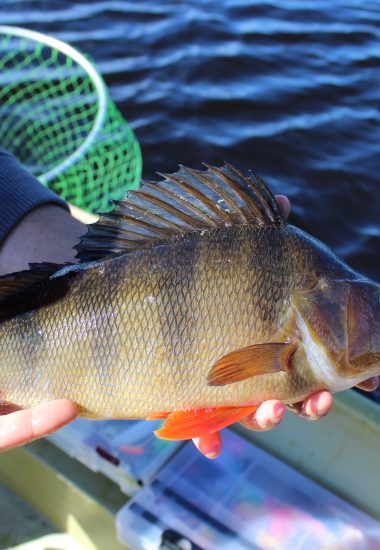 Ahven
Majoitus & Ateriat
On an island in the mighty River Muonio, overlooking two countries, You will find Rajamaa. Rajamaa consists of a main building, with reception, dining-room and sauna. Close by are our hotel-chalets, and around us the vast Taiga forests of Lapland. Except for the small village with 7 inhabitants, there is only wilderness. Here You will enjoy the calm of the Lapland nature, sleep like a log, and eat home cooked food.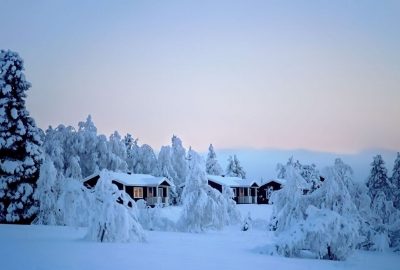 Näytä kuvasto
Lomamökit
Typical Swedish wooden chalets, as always, red with white corners. Lots of wood inside these comfortable, fully equipped hotel-chalets. All of them have been totally renovated during 2018. The smaller ones have 2 beds for twin or double. The bigger ones have two bed-rooms with 2 beds for twin or double and one big living room with two beds. Totally 6 with the extra beds. All chalets have ready-made hotel beds, shower/WC, mini-kitchen and electrical drying closet. And a view over the river and two countries!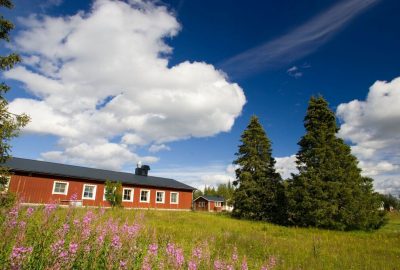 Näytä kuvasto
Ruokasali
All meals, if not eaten outside in the forest by a fire, will be enjoyed in our dining-room. The splendid view over the river will increase the appetite. All the food has been prepared in our kitchen from start, and the bread is also baked there. As much as possible we use Lapland produced, such as moose, pork and beef, and fish from mountain-lakes or the Arctic Sea. Blue-berries, cloud-berries and lingon-berries are picked in the forests around. Depending on season, vegetables are partly grown in our garden and partly from the region. Bon appetit!
Päivät & Hinnat
Grayling fishing w.25 – w.36
Pike fishing       w.25 – w.39
Preliminary changing day during 2020, Saturdays in Rovaniemi (RVN) and out Kittilä airport (KTT). Please check before booking any flights!!
Price:
€ 1738/pers  4 persons/4-bed chalet (2 bed-rooms)  4 pers /1 guide
€ 2012/pers  3 persons/4-bed chalet (2 bed-rooms)  3 pers/ 1 guide
€ 2533/pers  2 persons/2-bed chalet                                2 pers/ 1 guide
€ 4375             1 person/2 bed chalet                                   1 pers/1 guide

Booking Policy
After booking You will get an invoice for the whole sum. When the invoice is paid, Your booking is valid.
Ennen lähtöä
No vaccinations needed, but please bring Your European Health Insurance Card.
Sisältyy hintaan
Transfer from/to Rovaniemi/Kittilä airport.
Accommodation in 2-bed or 4-bed hotel-chalets at Rajamaa.
"Lapland full-board". Breakfast, lunch-package and dinner at our restaurant at Rajamaa.
All licenses. All transports to/from fishing-spots.
Guiding 5 days.6 hours/day.
A program certified as ecological tourism.
Ei sisälly hintaan
Drinks not included.