Quick Facts
Fishing adventure with professional guiding. A program certified as sustainable tourism.
Lodging
Fully equipped chalets
Nights
7
Price
From €1738 (per person, shared room)
Adventure Type
Guided tour
Boarding
Breakfast, lunch-package and dinner
Transport
All necessary transports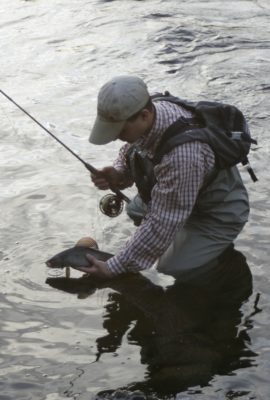 Adventure Overview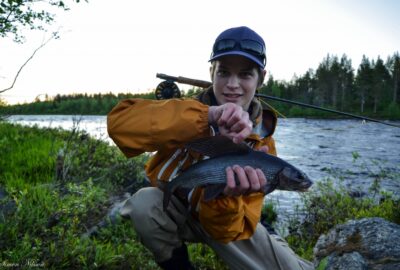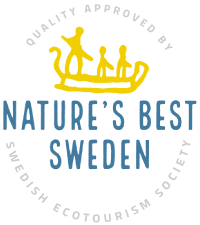 The area by Rajamaa is dominated by the mighty River Muonio, with all its islands and smaller side streams. On one of the islands, You will find Rajamaa. A true paradise for fishermen, with the fishing-waters just outside the door. These streams are possible to wade in the summer.
This is the home-land of the ARCTIC GRAYLING, the "Lady of the stream".
The Arctic Grayling profits on the rich life of insects in Lapland, and moves to different feeding areas depending on water level and also different hatchings of insects. Your professional guide will teach You more about the biotopes and nature of Lapland. And, of course, where the graylings are to be found. And how to catch them! Normally we leave after breakfast, and eat a lunch-package by the fire. It is also possible to do evening fishing, as there will be no night under the Midnight Sun…
In Lapland Catch & Release, with barb-less single hook is a natural thing.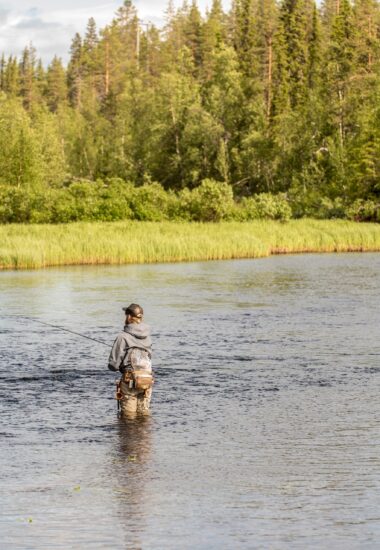 Wild waters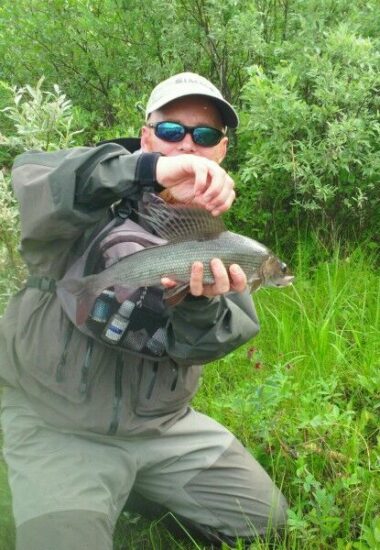 Arctic grayling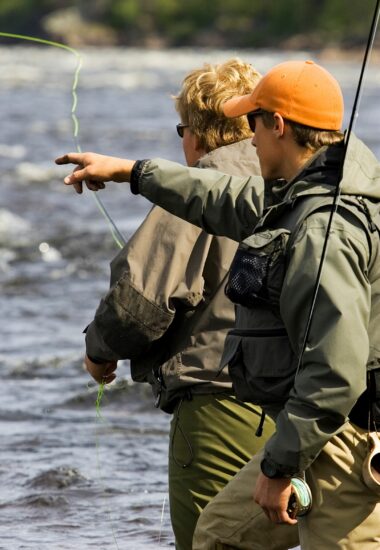 Professional guiding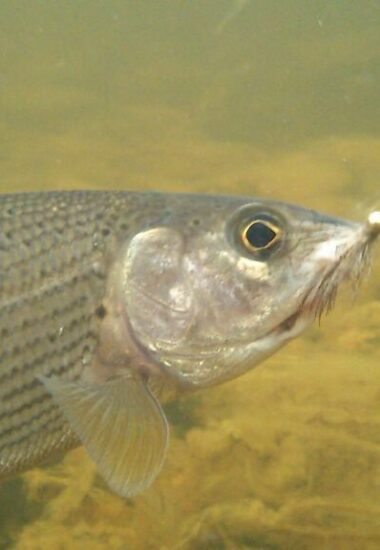 New fishing experiences
Accommodation & Meals
On an island in the mighty River Muonio, overlooking two countries, You will find Rajamaa. Rajamaa consists of a main building, with reception, dining-room and sauna. Close by are our hotel-chalets, and around us the vast Taiga forests of Lapland. Except for the small village with 7 inhabitants, there is only wilderness. Here You will enjoy the calm of the Lapland nature, sleep like a log, and eat home cooked food.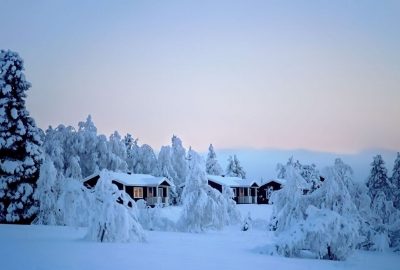 View Gallery
Chalets
Typical Swedish wooden chalets, as always, red with white corners. Lots of wood inside these comfortable, fully equipped hotel-chalets. All of them have been totally renovated during 2018. The smaller ones have 2 beds for twin or double. The bigger ones have two bed-rooms with 2 beds for twin or double and one big living room with two beds. Totally 6 with the extra beds. All chalets have ready-made hotel beds, shower/WC, mini-kitchen and electrical drying closet. And a view over the river and two countries!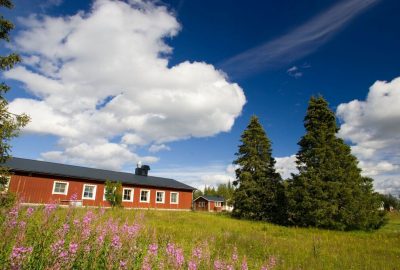 View Gallery
The dining room
All meals, if not eaten outside in the forest by a fire, will be enjoyed in our dining-room. The splendid view over the river will increase the appetite. All the food has been prepared in our kitchen from start, and the bread is also baked there. As much as possible we use Lapland produced, such as moose, pork and beef, and fish from mountain-lakes or the Arctic Sea. Blue-berries, cloud-berries and lingon-berries are picked in the forests around. Depending on season, vegetables are partly grown in our garden and partly from the region. Bon appetit!
Before you go
No vaccinations needed, but please bring Your European Health Insurance Card.
Included in the price
Transfer from/to Rovaniemi/Kittilä airport.
Accommodation in 2-bed or 4-bed hotel-chalets at Rajamaa.
"Lapland full-board". Breakfast, lunch-package and dinner at our restaurant at Rajamaa.
All licenses. All transports to/from fishing-spots.
Guiding 5 days.6 hours/day.
A program certified as sustainable tourism.


Not included
Drinks not included.
Fishermen bring their own equipment.
Dates & Prices
Season 2024:
Grayling fishing w.26 – w.37
Preliminary changing day during 2024, Saturdays in Rovaniemi (RVN) and out Kittilä airport (KTT). Please check before booking any flights!!
Price:
€ 1988/pers  4 persons/4-bed chalet (2 bed-rooms)  4 pers /1 guide
€ 2347/pers  3 persons/4-bed chalet (2 bed-rooms)  3 pers/ 1 guide
€ 2945/pers  2 persons/2-bed chalet                                2 pers/ 1 guide
€ 4980             1 person/2 bed chalet                                   1 pers/1 guide
FIXED DATES, WITH FIXED PRICES !    29.06 – 06.07   and  13.07 – 20.07
For single travellers. You share guide and chalet (1 person/room). Price EUR 2144/person.