Quick Facts
Hike, bike, explore old paths and small roads, winding through the forests and along rivers.
Lodging
Fully equipped chalets
Nights
7
Price
From €1511 (per person, shared room)
Adventure Type
Guided tour
Boarding
Breakfast, lunch-package and dinner
Transport
Trekking, canoe, bicycle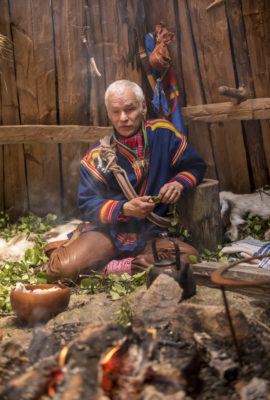 Adventure Overview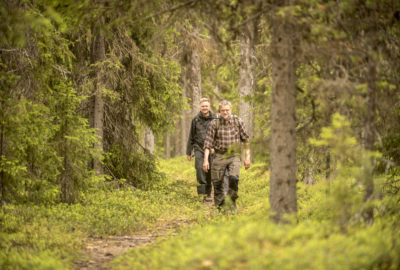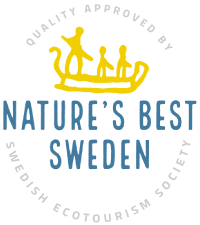 The summer in Lapland is a big adventure. For some intense months the nature wakes up from its winter sleep and now, every-thing must happen. Under a generous sun, that never sets, everything is growing. Flowers, birds, fish, berries, mushrooms, mosquitos…. It's just to enjoy.
This area gives great opportunities for walking and biking. Old paths and small roads wind through the forests and along rivers. From the hills You have breath-taking views of the wilderness. Birds, flowers, animals, the whole nature is significant for Lapland. Many northern species are only found here in what is known as the western-most part of the enormous Taiga. The season for walking and biking goes from June to the end of September.From blooming meadows, over summers midnight- sun,the autumn colors of "Ruska",to the frosty coming of the winter.  A program certified as sustainable tourism.
Itinerary
Arrival and Welcome Drink
At the airport, our bus is ready to take us through Lapland. We head westward towards the Muonio River until we reach Rajamaa. We install ourselves in the nice fully equipped chalets, and then gather in the main building for a drink of welcome. We get to know each other and check the program of the week. Dinner at the restaurant. After dinner there will be a presentation, in words and showing unique pictures by the Swedish photographer Staffan Widstrand. Today we present the first of "The big four", the Scandinavian big predators, the very shy Lynx.
Trekking and meeting the Saami
Breakfast .By the first trekking-tour we leave our island, and go north. In the forest we will meet Henrik Sevä, a forest-Saami whos' family has herded reindeers in this area for generations. He will tell us about the rare culture, about old days and modern times. We will reach the River Muonio by the Great Äijäkoski Rapids. Lunch-package will be eaten somewhere along the way. We follow the river down-stream and in the after-noon we will reach Rajamaa again. Dinner at the restaurant. After dinner we continue to present, in words and unique pictures, "The big four", the Scandinavian big predators. Today the mysterious Wolverine.
Canoeing along the mighty border river Muonio
After breakfast we go by bus to the village of Yli-Muonio, in Finland, to start our canoe trip. We paddle along the mighty River Muonio, with Finland on the left side and Sweden on the right. Passing meadows and hills we reach the ancient cemetery of Akamella. We make a stop by this historically interesting place, before we continue down the river. Lunch by the campfire, or in some old farmer's cabin. We continue along the river and spot the church-tower in Muonio, and then we are close to our goal. Transport back to Rajamaa.We will get our mountain-bikes and make a shorter test ride to adjust saddles. Dinner at the restaurant. After dinner we continue to present, in words and unique pictures, "The big four", the Scandinavian big predators. Today the "big, bad" Wolf. After dinner we drive to a wilderness river, and try to meet one of its most fascinating in- habitants. The hard-working Beaver.
Show all days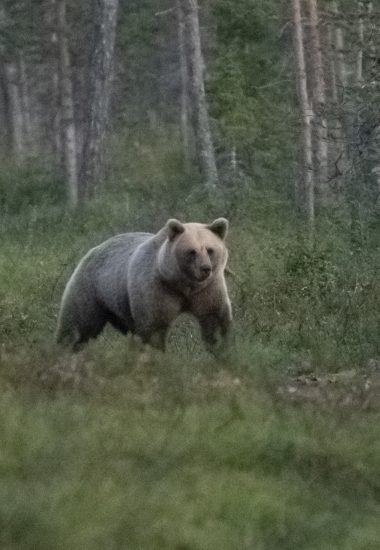 Audience of the "Queen of the Forest"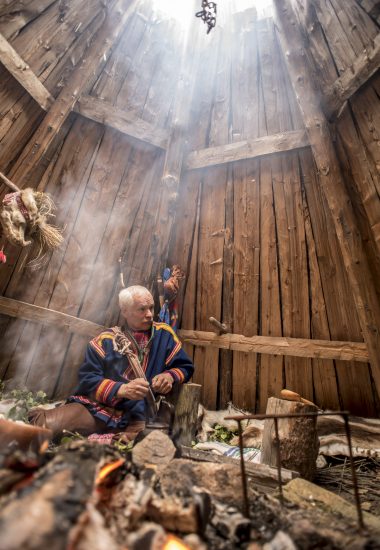 Meet the Forest-Saamis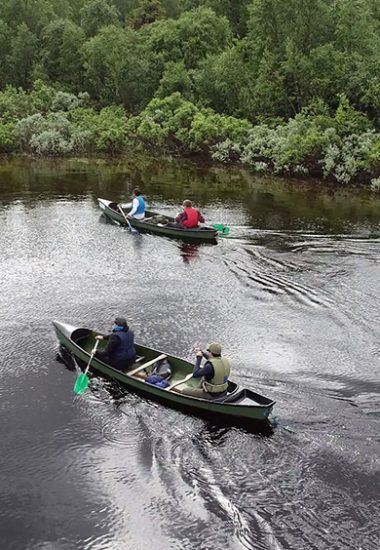 Paddle canoe along the mighty River Muonio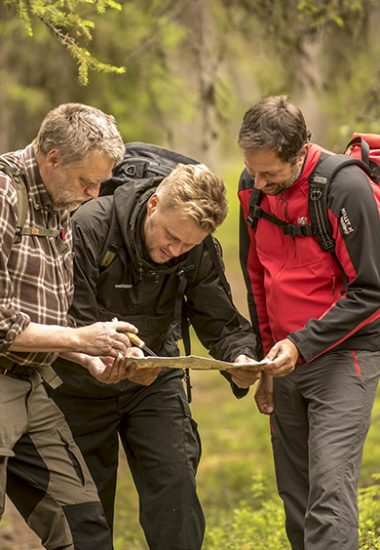 Trekking through the vast Lapland Forests
Accommodation & Meals
On an island in the mighty River Muonio, overlooking two countries, You will find Rajamaa. Rajamaa consists of a main building, with reception, dining-room and sauna. Close by are our hotel-chalets, and around us the vast Taiga forests of Lapland. Except for the small village with 7 inhabitants, there is only wilderness. Here You will enjoy the calm of the Lapland nature, sleep like a log, and eat home cooked food.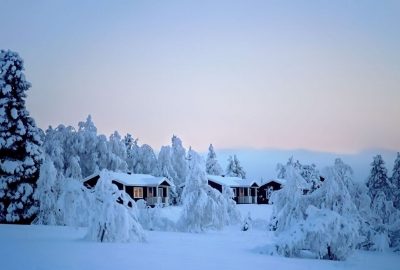 View Gallery
Chalets
Typical Swedish wooden chalets, as always, red with white corners. Lots of wood inside these comfortable, fully equipped hotel-chalets. All of them have been totally renovated during 2018. The smaller ones have 2 beds for twin or double. The bigger ones have two bed-rooms with 2 beds for twin or double and one big living room with two beds. Totally 6 with the extra beds. All chalets have ready-made hotel beds, shower/WC, mini-kitchen and electrical drying closet. And a view over the river and two countries!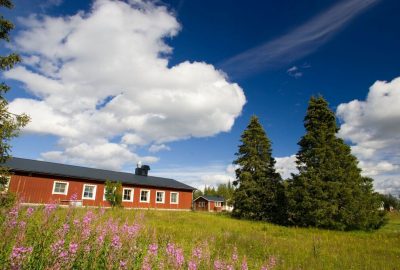 View Gallery
The dining room
All meals, if not eaten outside in the forest by a fire, will be enjoyed in our dining-room. The splendid view over the river will increase the appetite. All the food has been prepared in our kitchen from start, and the bread is also baked there. As much as possible we use Lapland produced, such as moose, pork and beef, and fish from mountain-lakes or the Arctic Sea. Blue-berries, cloud-berries and lingon-berries are picked in the forests around. Depending on season, vegetables are partly grown in our garden and partly from the region. Bon appetit!
Before you go
This is a program that demands a normal physical ability, an interest in nature and an appetite for a little adventure.
The guests should bring proper clothing for outdoor, walking boots, rain clothes, a simple sleeping-bag and small ruck-sack. A head-lamp for the evening and an extra towel for the sauna are also needed.
No vaccinations needed, except Covid, but please bring Your European Health Insurance Card.
Included in the price
Transfer from/to Kittilä airport, Kolari train or Pajala bus station. 7 night's accommodation in well-equipped chalets. One night in our forest-lodge. "Lapland full-board" Breakfast, lunch-package and dinner. Guide. All activities and transports according to program.
A program certified as sustainable tourism.
Not included
Drinks not included.
Dates & Prices
Departures 2024:                        NOT YET DECIDED.

June 24th, 2023 to July 01st
July 08th, 2023 to July 15th
August 05th, 2023 to August 12th
August 19th, 2023 to August 26th
Price per person:
4 persons in 4-bed chalet EUR 1763/person (2 bed-rooms)
3 persons in 4-bed chalet EUR 1830/person (2 bed-rooms)
2 persons in 2-bed chalet EUR 1845/person
1 person   in 2-bed chalet EUR 2130
Group size
Minimum 6 persons
Maximum 15 persons
See what guests are saying
Dépaysement en Laponie
Un grand merci à Lars et toute l'équipe de Rajamaa ainsi qu'à Henrik de nous avoir fait découvrir et sensibilisé à cette belle région, malgré la météo pas toujours au rendez-vous. Tout le monde a été aux petits soins (nourriture fameuse, confort parfait!) et nous avons pu déconnecter complètement pour partir à la découverte de l'été lapon, ses forêts, ses lacs et ses mousses, ses poissons, ses oiseaux, ses rennes.
Clémence & Tuan
France
Lovely place in Lapland
Beautiful views in middle of nature. Thanks a lot for your hospitality. Hope to come agian.... Lot of memories
Vanessa
Reims, France
Unvergesslicher Urlaub in Lappland!!
Aus dem Süden kamen wir geflogen, um uns in Lappland auszutoben. Nördlich der Stressgrenze in Rajamaa, fühlten wir uns ganz wunderbar. Die Sonne schien die ganze Nacht und hat uns sogar um 3 Uhr noch angelacht. Das leckere Essen hatten wir gerne, besser als beim Koch mit Sternen. Mit dem Rucksack auf unserem Rücken, jagten und die "relativ" wenigen Mücken. Ob über Stock oder über Stein, niemand brach sich je ein Bein. Das Wasser tat sich auf als Lücke, da half und nur die Kanubrücken! Fernab von allen Wegen, blieben wir verschont vom Regen. Mittags an des Feuers Glut, stärkten wir uns mit Rentierblut. Noch lange werden wir reden, von dem Besuch beim "alten Schweden". Vielen vielen vielen vielen Dank! Tack!!!!
Marco Polo Gruppe
Germany
Experience the Real North
A great place to enjoy the wonderfull nature of Lappland! We had a great time together with Kaisu, Lars, Sami and Axel! We are really looking forward to coming back to this cool place! Just can recommend to go there if you want to experience the real north!
Simon
Germany
The Perfect Place
I had a wonderful time in Rajamaa. Lars and his wife are very kind and know everything about their beautiful country. Lars can teach you a lot about animals and nature in general. Everything was perfectly organized: activities, meals... Do not hesitate to go and discover Lapland thanks to them! The perfect place!
Gersende