Quick Facts
Do like skiers and biathletes from all over the world! Come to train on "early snow" at Olos by Muonio already in October!
Skiing
The tracks at Olos are always open from the 25th of October!
Biathlon
The biathlon stadium has 30 places.
Lodging
We have fully equipped,newly renovated hotel-chalets.
Boarding
We serve full-board to hungry skiers.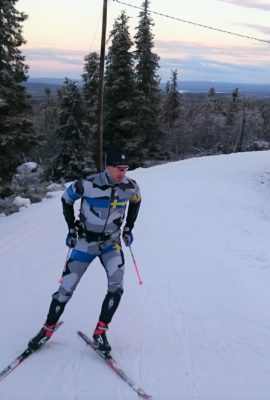 Adventure Overview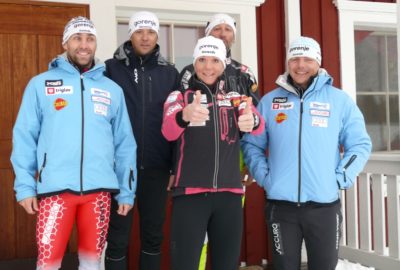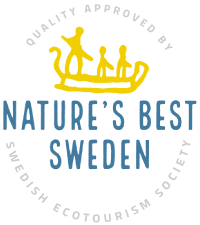 Muonio and Olos is famous for providing excellent training possibilities on "early snow" already in October. Clubs and national teams from all over the world come here to prepare for the season. The snow-guarantee and the high quality of the tracks is well known. Rajamaa is participating in the financing of the tracks, and we can offer our guests better prices for the track fees. The tracks are only 10 minute's drive from Rajamaa!
Rajamaa has a long experience of serving skiers and biathletes from many different countries.
We have well equipped, newly renovated hotel-chalets. All with kitchenette, drying closet and shoe-dryers.
In the restaurant we serve breakfast, lunch and dinner to hungry skiers. All the food has been prepared in our kitchen from start, and the bread is also baked there. We know that athletes need good, tasty and healthy food. And a lot!
We have waxing facilities.
Please contact us for a price offer!
We also offer stays during the Lapponia Skiing Week!
Accommodation & Meals
On an island in the mighty River Muonio, overlooking two countries, You will find Rajamaa. Rajamaa consists of a main building, with reception, dining-room and sauna. Close by are our hotel-chalets, and around us the vast Taiga forests of Lapland. Except for the small village with 7 inhabitants, there is only wilderness. Here You will enjoy the calm of the Lapland nature, sleep like a log, and eat home cooked food.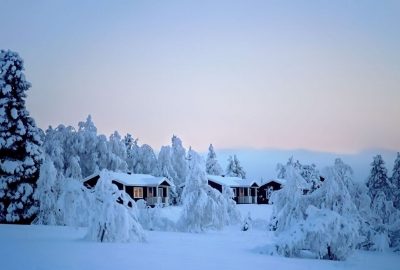 View Gallery
Chalets
Typical Swedish wooden chalets, as always, red with white corners. Lots of wood inside these comfortable, fully equipped hotel-chalets. All of them have been totally renovated during 2018. The smaller ones have 2 beds for twin or double. The bigger ones have two bed-rooms with 2 beds for twin or double and one big living room with two beds. Totally 6 with the extra beds. All chalets have ready-made hotel beds, shower/WC, mini-kitchen and electrical drying closet. And a view over the river and two countries!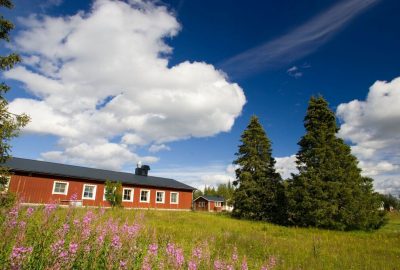 View Gallery
The dining room
All meals, if not eaten outside in the forest by a fire, will be enjoyed in our dining-room. The splendid view over the river will increase the appetite. All the food has been prepared in our kitchen from start, and the bread is also baked there. As much as possible we use Lapland produced, such as moose, pork and beef, and fish from mountain-lakes or the Arctic Sea. Blue-berries, cloud-berries and lingon-berries are picked in the forests around. Depending on season, vegetables are partly grown in our garden and partly from the region. Bon appetit!
Dates & Prices
The tracks will open the 25th of October.
We know that every team is different, so please contact us with Your preferences and we are happy to give You a price offer for the camp.
You can contact us on the contact form or directly on:
info@rajamaa.com
+46 70 5533817
Welcome
Kaisu & Lars
Team Rajamaa