Quick Facts
Machen Sie wie Langläufer und biathleten von ganzen Welt! Trainieren Sie auf "früher Schnee", schon im Oktober am Olos bei Muonio!
Skiing
Die Loipen bei Olos sind immer offen von 25. Oktober.
Biathlon
Das Biathlonstadion hat 30 Schiesstände.
Unterkunft
Wir haben voll ausgerüstete, neurenovierte Hotelchalets.
Essen
Hier bekommen hungrige Skiläufer Vollpension!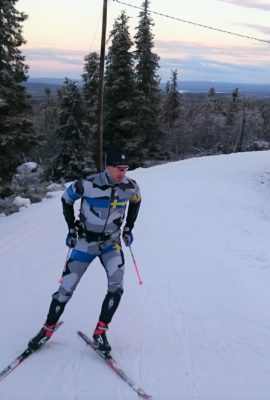 Adventure Overview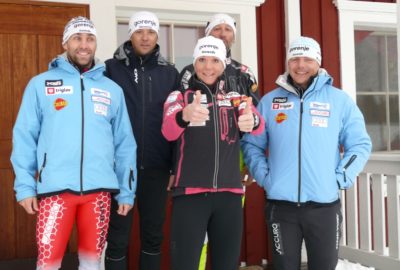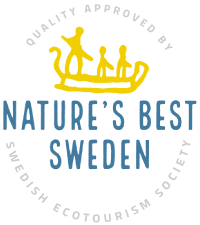 Muonio mit Olos ist weltberühmt für seine ausgezeichnete Trainingsmöglichkeiten, schon in Oktober, auf "früher Schnee" . Vereine und Nationalmannschaften von ganzen Welt, kommen hier um den Saison gut zu vorbereiten. Die Schneegaranti und die Spitzenloipen sind gut bekannt. Rajamaa nimmt teil in die Loipenkosten, und dafür bekommen unsere Gäste bessere Preise für die Loipengebühre.
Rajamaa hat jahrelang Langläufer und Biathleten von viele verschiedene Länder bedient. Wir haben voll ausgerüstete, neu renovierte Hotelchalets. Alle mit Miniküche, Trockenschrank und Stiefeltrockner.
Im Restaurant bekommen hungrige Skiläufer Frühstück, Mittagessen und Abendessen. Alles ist vom Grund in unsere Küche gekocht und auch das Brot ist auch Hausgebackt. Wir wissen das Sportlern brauchen gutes, schmackvolles und gesundes Essen. Und viel!
Wir haben auch Wachsraum.
Bitte nehmen Sie kontakt für einen Angebot!
Wir bieten auch Aufenthalte an beim Lapponia Skiing Week!
Accommodation & Meals
On an island in the mighty River Muonio, overlooking two countries, You will find Rajamaa. Rajamaa consists of a main building, with reception, dining-room and sauna. Close by are our hotel-chalets, and around us the vast Taiga forests of Lapland. Except for the small village with 7 inhabitants, there is only wilderness. Here You will enjoy the calm of the Lapland nature, sleep like a log, and eat home cooked food.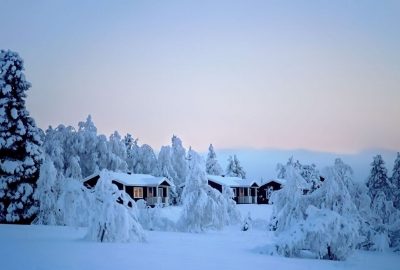 View Gallery
Chalets
Typical Swedish wooden chalets, as always, red with white corners. Lots of wood inside these comfortable, fully equipped hotel-chalets. All of them have been totally renovated during 2018. The smaller ones have 2 beds for twin or double. The bigger ones have two bed-rooms with 2 beds for twin or double and one big living room with two beds. Totally 6 with the extra beds. All chalets have ready-made hotel beds, shower/WC, mini-kitchen and electrical drying closet. And a view over the river and two countries!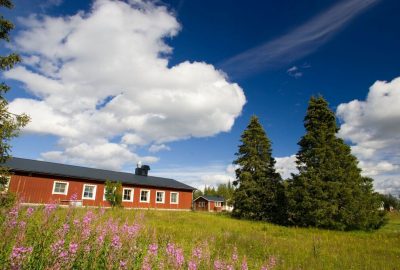 View Gallery
Speisesaal
All meals, if not eaten outside in the forest by a fire, will be enjoyed in our dining-room. The splendid view over the river will increase the appetite. All the food has been prepared in our kitchen from start, and the bread is also baked there. As much as possible we use Lapland produced, such as moose, pork and beef, and fish from mountain-lakes or the Arctic Sea. Blue-berries, cloud-berries and lingon-berries are picked in the forests around. Depending on season, vegetables are partly grown in our garden and partly from the region. Bon appetit!
Termine & Preise
Die Loipen bei Olos öffnen immer der 25. Oktober.
Alle Teams sind unterschiedliche, so bitte teilen Sie uns Ihre Wünsche mit. Wir geben gerne Ihnen einen Angebot.
Sie können gerne Kontakt nehmen auf diese Webseite oder direkt am:
info@rajamaa.com
+46 70 5533817
Willkommen
Kaisu & Lars
Team Rajamaa