Quick Facts
Lodging
Fully equipped chalets
Nights
3
Price
From €1303 (per person, shared room)
Adventure Type
Guided activites and own time
Boarding
Breakfast, lunch-package and dinner
Transport
Snow-shoes, husky-sled, reindeer-sled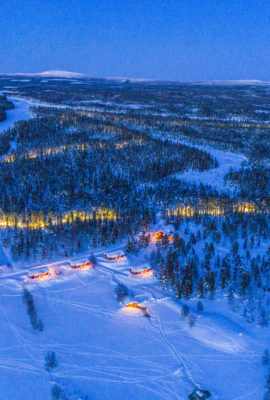 Adventure Overview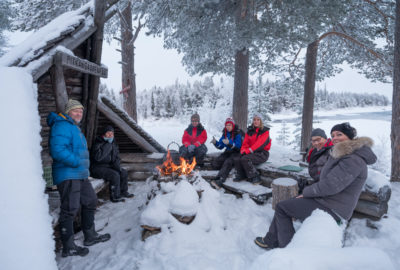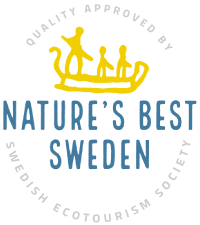 On an island in the river Muonio, looking out over two countries, lays Rajamaa. We have fully equipped chalets and a little restaurant. Here, some 200 km above the Arctic Circle, Lapland is at its best and cleanest, with deep forests, mighty rivers and the mountains rising at the horizon. Here You can enjoy the clean untouched Lapland, its nature, people and their rare culture.
During some days You will, far away from the everyday worries, experience the genuine fascinating Lapland where man still lives in harmony with nature.
The Malmström family, hosts at Rajamaa since the start 1986, welcomes You as our guest.
Itinerary
Arrival day
At the airport in Kittilä, our bus is ready to take us through the wintry forests of Lapland. We head westward towards the Muonio River and after 1 hour we reach Rajamaa. We install ourselves in the nice fully equipped chalets, and then gather in the main building. We get to know each other and check the program of the week. Dinner at the restaurant
On snow-shoes
After a steady breakfast and after we have made some sandwiches for the lunch we gather outside. Led by the guide we make a walk through the wintry landscape to learn more about the rare nature of Lapland. A tour everyone can participate in. Tracks of birds and animals in the snow, trees and bushes adapted to the harsh climate along with other nature phenomena of the Taiga, will be described. We eat our lunch by a flaming log fire in the forest, before walking back to Rajamaa. Dinner at the restaurant.
Creating snow sculptures
After breakfast we gather outside to get instructions in making "snow sculptures". First, we prepare everything by making cubes of snow, cubes that will be transferred into sculptures. Soon everyone is busy creating in this natural material. The afternoon can be used to more sculpturing. Dinner at the restaurant.
Show all days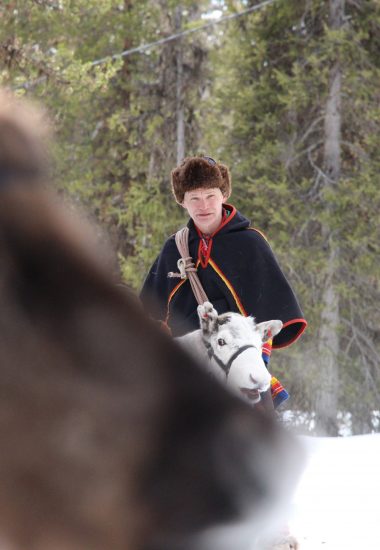 Meet teh Forest-Saamis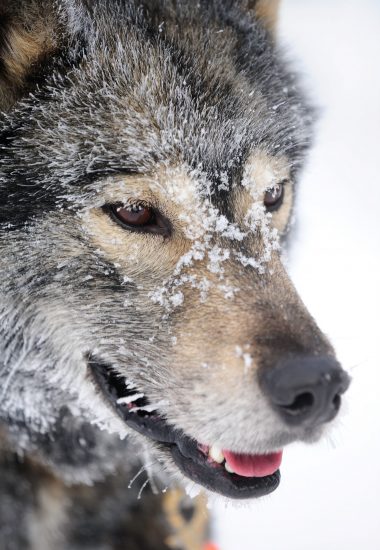 Drive Your own husky-team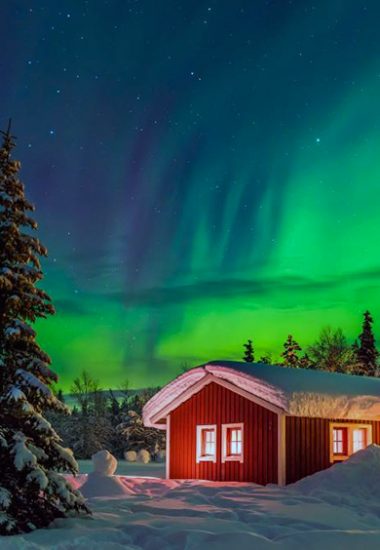 Good opportunities for Northern Lights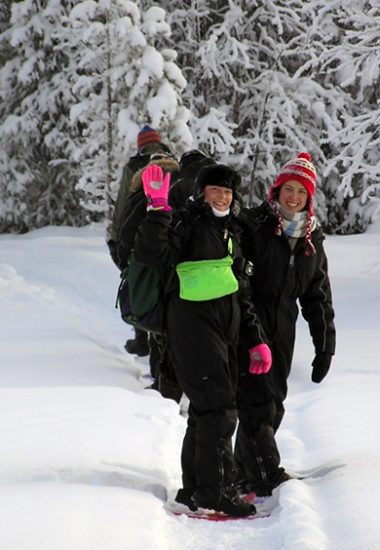 Snow-shoe through the wintry Lapland Forest
Accommodation & Meals
On an island in the mighty River Muonio, overlooking two countries, You will find Rajamaa. Rajamaa consists of a main building, with reception, dining-room and sauna. Close by are our hotel-chalets, and around us the vast Taiga forests of Lapland. Except for the small village with 7 inhabitants, there is only wilderness. Here You will enjoy the calm of the Lapland nature, sleep like a log, and eat home cooked food.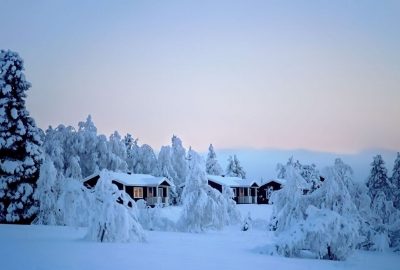 View Gallery
Chalets
Typical Swedish wooden chalets, as always, red with white corners. Lots of wood inside these comfortable, fully equipped hotel-chalets. All of them have been totally renovated during 2018. The smaller ones have 2 beds for twin or double. The bigger ones have two bed-rooms with 2 beds for twin or double and one big living room with two beds. Totally 6 with the extra beds. All chalets have ready-made hotel beds, shower/WC, mini-kitchen and electrical drying closet. And a view over the river and two countries!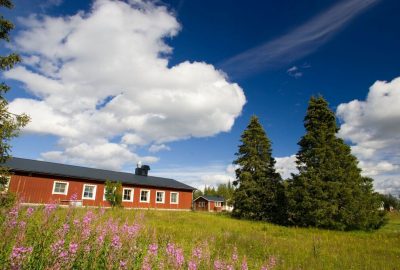 View Gallery
The dining room
All meals, if not eaten outside in the forest by a fire, will be enjoyed in our dining-room. The splendid view over the river will increase the appetite. All the food has been prepared in our kitchen from start, and the bread is also baked there. As much as possible we use Lapland produced, such as moose, pork and beef, and fish from mountain-lakes or the Arctic Sea. Blue-berries, cloud-berries and lingon-berries are picked in the forests around. Depending on season, vegetables are partly grown in our garden and partly from the region. Bon appetit!
Before you go
The guest should bring small back-pack and long under-wear, preferably in wool.
Everybody will be given winter-equipment for the whole week. Overall, boots, woolen socks, woolen mittens, leather mittens and cap.
No vaccinations needed, but please bring Your European Health Insurance Card.
Included in the price
Transfers, accommodation in hotel-chalets, Lapland full board (lunch-package, drinks not included), overalls and warm boots, activities according to program.
Not included
Drinks and personal expenditure (souvenirs...) and all any extra expenses not mentioned before.
During Your stay it is possible to buy extra service/programs like:
Snow-mobile safari: 30 km, 2 pax/mobile 166 EUR/pax
Cross-Country skies: EUR 20/day 100/week.
Snow-shoes: EUR 14/day 70/week.

Dates & Prices
Price:
€ 1303/pers in 4-bed chalet 4 pers (2 separate bedrooms)
€ 1356/pers in 4-bed chalet 3 pers (2 separate bedrooms)
€ 1380/pers  in 2-bed chalet 2 pers
€ 1616/pers in 2-bed chalet 1 pers
Children accompanied by adults.   – 7 years reduction 50%.
8-12 years reduction 30%.

Group size
Minimum 6 persons
Maximum 16 persons
Departures
January 19th, 2020 to January 26th
February 9th, 2020 to February 16th
March 8th, 2020 to March 15th
March 22th, 2020 to March 29nd
Programs start on Sundays
Booking Policy
After booking You will get an invoice for the whole sum. When the invoice is paid, Your booking is valid.